A cross-sectional study on the prevalence of cutaneous leishmaniasis in Kabul, Afghanistan form 2020 to 2021
Keywords:
Kabul, Cutaneous leishmaniasis, Poverty, Lock of knowledge, Cultural barriers
Abstract
Background: Leishmaniasis is one of the most neglected diseases in several countries, but Kabul, the capital of Afghanistan, is the largest center of cutaneous leishmaniasis in the world. In the present study, we investigated the prevalence of Cutaneous leishmaniasis (CL) in Kabul during 2021 and 2022.
[Methods: The present study was a descriptive-cross-sectional retrospective study. It was done based on the information of patients who visited the NMLCP from January, 21, 2021 to October 29, 2022, for the diagnosis of leishmaniasis. Required information including age, gender, type, number and location of the lesion, and date of the visit were extracted from the hospital database.
Results: The result of this study showed that the highest rate of CL was in 2021 and the lowest was in 2022. Most infected were children. Face lesion was the most common lesion in the patients and most of the infected patients had one lesion while others had more lesions.
Conclusion:  in this study, we demonstrated that 12,292 people were infected with CL in Kabul in 2021 and 2022. The cutaneous leishmaniasis epidemicity in Afghanistan is mainly due to poverty, lack of access to health services, cultural and social barriers, lack of vector control, destruction of public health infrastructure, poor access to health services, and migration of people from non-endemic regions to endemic provinces.
References
Reithinger R, Dujardin J-C, Louzir H, Pirmez C, Alexander B, Brooker S. Cutaneous leishmaniasis. The Lancet infectious diseases. 2007;7(9):581-96.
Khan SJ, Muneeb S. Cutaneous leishmaniasis in Pakistan. Dermatology Online Journal. 2005;11(1).
Alemayehu B, Alemayehu M. Leishmaniasis: a review on parasite, vector and reservoir host. Health Science Journal. 2017;11(4):0-.
Aronson N, Herwaldt BL, Libman M, Pearson R, Lopez-Velez R, Weina P, et al. Diagnosis and treatment of leishmaniasis: clinical practice guidelines by the Infectious Diseases Society of America (IDSA) and the American Society of Tropical Medicine and Hygiene (ASTMH). Clinical infectious diseases. 2016;63(12):e202-e64.
Hamdam P. Why does leishmaniasis result in life-long scars for women in Afghanistan? Public Health. 2020;185:196-8.
Steverding D. The history of leishmaniasis. Parasites & vectors. 2017;10(1):1-10.
Mosawi SH, Zarei Z, Shams M, Mohammadi K, Sajjadi SA. Environmental health and leishmaniasis by indication on afghanistan: a review. Encyclopedia of environmental health. 2019:458-65.
Herrera G, Barragán N, Luna N, Martínez D, De Martino F, Medina J, et al. An interactive database of Leishmania species distribution in the Americas. Scientific data. 2020;7(1):1-7.
Hernández-Bojorge SE, Blass-Alfaro GG, Rickloff MA, Gómez-Guerrero MJ, Izurieta R. Epidemiology of cutaneous and mucocutaneous leishmaniasis in Nicaragua. Parasite Epidemiology and Control. 2020;11:e00192.
Aerts C, Vink M, Pashtoon SJ, Nahzat S, Picado A, Cruz I, et al. Cost effectiveness of new diagnostic tools for cutaneous leishmaniasis in Afghanistan. Applied health economics and health policy. 2019;17(2):213-30.
Stahl H-C, Ahmadi F, Nahzat SM, Dong H-J, Stahl K-W, Sauerborn R. Health economic evaluation of moist wound care in chronic cutaneous leishmaniasis ulcers in Afghanistan. Infectious diseases of poverty. 2018;7(01):63-78.
Vink MM, Nahzat SM, Rahimi H, Buhler C, Ahmadi BA, Nader M, et al. Evaluation of point-of-care tests for cutaneous leishmaniasis diagnosis in Kabul, Afghanistan. EBioMedicine. 2018;37:453-60.
Fakhar M, Karamian M, Ghatee MA, Taylor WR, Ghohe HP, Rasooli SA. Distribution pattern of anthroponotic cutaneous leishmaniasis caused by Leishmania tropica in Western Afghanistan during 2013-2014. Acta Tropica. 2017;176:22-8.
Ghatee MA, Taylor WR, Karamian M. The geographical distribution of cutaneous leishmaniasis causative agents in Iran and its neighboring countries, a review. Frontiers in public health. 2020;8:11.
Mosawi S, Dalimi A. Molecular detection of Leishmania spp. isolated from cutaneous lesions of patients referred to Herat regional hospital, Afghanistan. East Mediterr Health J. 2015;21(878-84):12.878.
Cardona-Arias JA, Vélez ID, Lopez-Carvajal L. Efficacy of thermotherapy to treat cutaneous leishmaniasis: a meta-analysis of controlled clinical trials. PLoS One. 2015;10(5):e0122569.
Plourde M, Coelho A, Keynan Y, Larios OE, Ndao M, Ruest A, et al. Genetic polymorphisms and drug susceptibility in four isolates of Leishmania tropica obtained from Canadian soldiers returning from Afghanistan. PLoS neglected tropical diseases. 2012;6(1):e1463.
Khan W, Khan I, Ullah H, Zain S, Panhwar W, Mehmood S, et al. Cutaneous leishmaniasis–Awareness, knowledge and practices among general population in rural and urban areas in Malakand region, Pakistan. Brazilian Journal of Biology. 2021;82.
Roien R, Mousavi SH, Ozaki A, Baqeri SA, Hosseini SMR, Ahmad S, et al. Assessment of knowledge, attitude, and practice of health-care workers towards hepatitis B virus prevention in Kabul, Afghanistan. Journal of Multidisciplinary Healthcare. 2021;14:3177.
Shahraki SZ, Hosseini A, Sauri D, Hussaini F. Fringe more than context: Perceived quality of life in informal settlements in a developing country: The case of Kabul, Afghanistan. Sustainable Cities and Society. 2020;63:102494.
Collier P, Manwaring P, Blake M. Policy options for Kabul's informal settlements. IGC Growth brief, International Growth Centre, London. 2018.
Adegboye OA, McBryde ES, Eisen DP. Epidemiological analysis of association between lagged meteorological variables and pneumonia in wet-dry tropical North Australia, 2006–2016. Journal of Exposure Science & Environmental Epidemiology. 2020;30(3):448-58.
Fakhar M, Ghohe HP, Rasooli SA, Karamian M, Mohib AS, Hezarjaribi HZ, et al. Genetic diversity of Leishmania tropica strains isolated from clinical forms of cutaneous leishmaniasis in rural districts of Herat province, Western Afghanistan, based on ITS1-rDNA. Infection, Genetics and Evolution. 2016;41:120-7.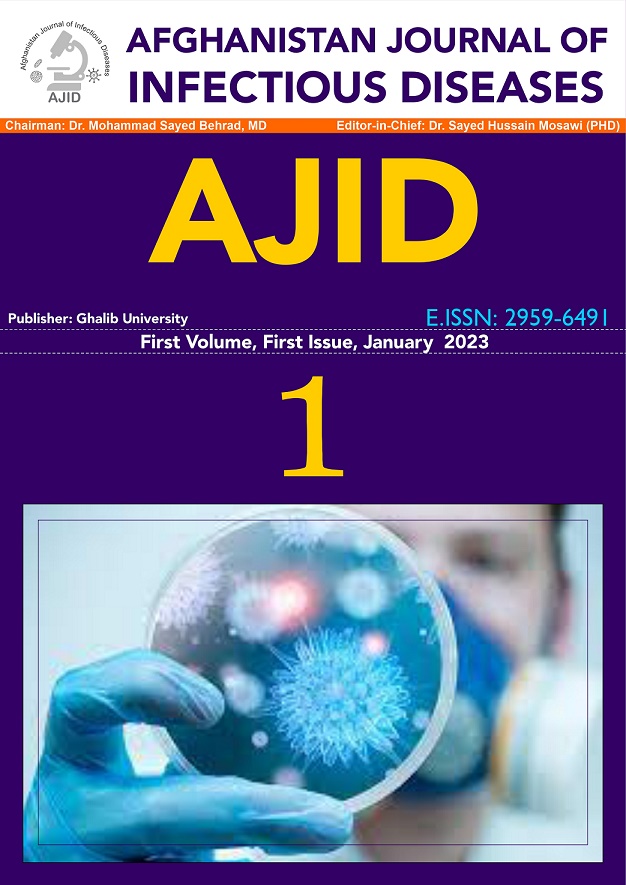 How to Cite
Madadi, S., Arif, S., Ansari, M., Amiry, G. Y., Kaihan, Z., & Haidary, M. (2023). A cross-sectional study on the prevalence of cutaneous leishmaniasis in Kabul, Afghanistan form 2020 to 2021 . Afghanistan Journal of Infectious Diseases, 1(1), 15–19. https://doi.org/10.58342/ajid/ghalibuni.v.1.I.1.4
License
Copyright (c) 2023 Afghanistan Journal of Infectious Diseases
This work is licensed under a Creative Commons Attribution 4.0 International License.