COVID 19-associated fungal infections: An overview
Keywords:
COVID 19, fungal infections
References
Zhu N., Zhang D., Wang W., Li X., Yang B., Song J. A novel coronavirus from patients with pneumonia in China, 2019. N. Engl. J. Med. 2020
Hu B, Huang S, Yin L. The cytokine storm and COVID-19. J Med Virol. 2021;93(1):250–6.
Raiesi O, Shabandoust H, Getso M, Raissi V, Rezaei AA. Candida auris: a new emerging fungal monster. Arch Clin Infect Dis emergence. 2019;6(9):16.
White PL, Dhillon R, Cordey A, Hughes H, Faggian F, Soni S, et al. A National Strategy to Diagnose Coronavirus Disease 2019-Associated Invasive Fungal Disease in the Intensive Care Unit. Clin Infect Dis. 2021;73(7):e1634–e44.
Seyedjavadi SS, Bagheri P, Nasiri MJ, Razzaghi-Abyaneh M and Goudarzi M. Fungal infection in co-infected patients with COVID-19: An overview of case reports/case series and systematic review. Front. Microbiol. 2022:13:888452.
Salmanton-García J, Sprute R, Stemler J, Bartoletti M, Dupont D, Valerio M, Garcia-Vidal C, Falces-Romero I, Machado M, de la Villa S. COVID-19–associated pulmonary aspergillosis, March–August 2020. Emerg Infect Dis. 2021;27(4):1077.
Lamoth F, Glampedakis E, Boillat-Blanco N, Oddo M, Pagani J-L. Incidence of invasive pulmonary aspergillosis among critically ill COVID-19 patients. Clin Microbiol Infect. 2020;26(12):1706–8.
Zhu, X.; Ge, Y.; Wu, T.; Zhao, K.; Chen, Y.; Wu, B.; Zhu, F.; Zhu, B.; Cui, L. Co-infection with respiratory pathogens among COVID-2019 cases. Virus. Res. 2020, 11, 198005.
Mejía-Santos H, Montoya S, Chacón-Fuentes R, et al. Notes from the Field: Mucormycosis Cases During the COVID–19 Pandemic — Honduras, May–September 2021. MMWR Morb Mortal Wkly Rep. 2021.
Dulski TM, DeLong M, Garner K, et al. Notes from the Field: COVID-19–Associated Mucormycosis — Arkansas, July–September 2021.MMWR Morb Mortal Wkly Rep. 2021.
Prestel C, Anderson E, Forsberg K, Lyman M, de Perio MA, Kuharet D, et al. Candida auris Outbreak in a COVID-19 Specialty Care Unit — Florida, July–August 2020. MMWR Morb Mortal Wkly Rep. 2021.
Nucci M, Barreiros G, Guimarães LF, Deriquehem VA, Castiñeiras AC, Nouér SA. Increased incidence of candidemia in a tertiary care hospital with the Covid‐19 pandemic. Mycoses. 2020.
Benedict K, Kobayashi M, Garg S, Chiller T, Jackson BR. Symptoms in blastomycosis, coccidioidomycosis, and histoplasmosis versus other respiratory illnesses in commercially insured adult outpatients, United States, 2016–2017. Clin Infect Dis. 2020.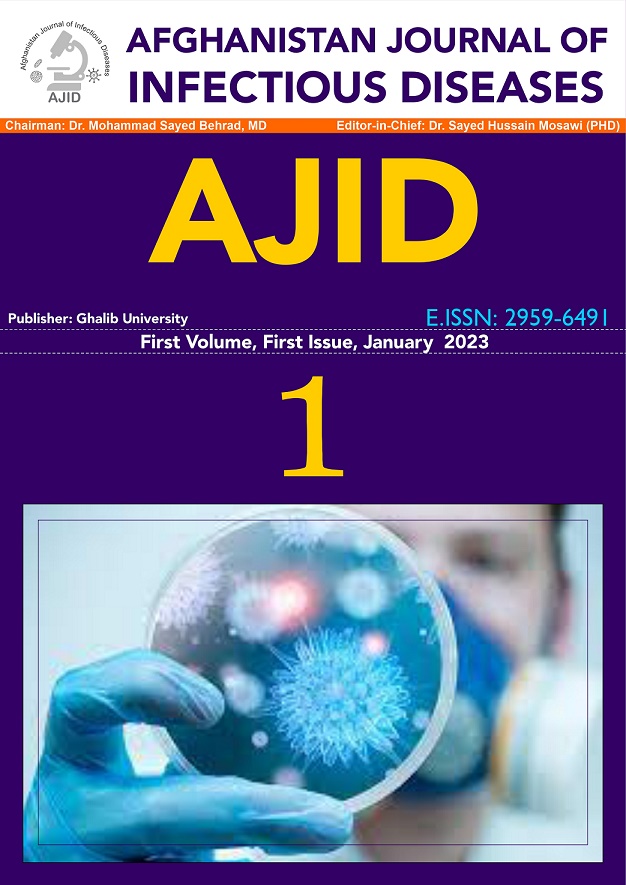 How to Cite
Shams-Ghahfarokhi, M., & Razzaghi-Abyaneh, M. (2023). COVID 19-associated fungal infections: An overview. Afghanistan Journal of Infectious Diseases, 1(1), 41–42. https://doi.org/10.58342/ajid/ghalibUni2
Section
letters to the Editor
License
Copyright (c) 2023 Afghanistan Journal of Infectious Diseases
This work is licensed under a Creative Commons Attribution 4.0 International License.